Traveling as a twosome? These date ideas in Houston are all you need to pack a weekend itinerary with sightseeing spots and fun activities designed to have you falling even deeper in love.
From the classically romantic to the adrenaline-inducing, these Houston date ideas have got range! Pick one and go all in or mix-and-match multiple for even more quality time together.
As Texas's largest city, Houston is full of world-class museums, art museums, green spaces, restaurants, and more. Of course, that's great news for anyone hoping to turn up the romance.
29 Date Ideas in Houston
So whether you like to bond over a glass of local wine or a hike through a stunning state park, couples of all kinds will find something to love on this list.
Fawn Over Wild Animals at the Houston Zoo
Nothing says date night like oohing and aahing over adorable creatures from all around the world.
The Houston Zoo is the second most visited zoo in the United States, housing more than 6,000 animals from 900 species and offering a number of opportunities to see wild animals, like giraffes, lions, and tigers.
Enjoy a Picnic at Buffalo Bayou Park
Lush greenery, wandering water-side trails, and sweeping views of the Houston skyline abound at Buffalo Bayou Park.
It's the perfect place to spread out a blanket and spend an afternoon, especially with a charcuterie board, a bottle of wine, and other picnic fare to keep you company (plus your date, of course).
Share a Meal or Two at the Galleria Food Truck Park
Houston is known for its food trucks, and they gather by the dozen at this mouthwatering attraction, serving up Southern comfort foods like brisket, cornbread, mac and cheese, and tacos.
Pick a big plate to split or gather a whole feast and enjoy it around one of the picnic tables spread out between trucks.
Kayak at Discovery Green
Covering 12 sprawling acres, this urban park has attractions galore, no matter when you visit.
In warmer weather, you can stroll past art installations, enjoy a live concert, or team up and steer a kayak across Kinder Lake.
During the winter, Christmas lights, ice skating, and carriage rides make the atmosphere extra magical.
Find Your Zen in the Japanese Garden
Hermann Park Conservancy is the go-to spot for a picturesque Houston date night, and its Japanese Garden is particularly charming.
After all, there's no better place to stare into your special someone's eyes than amidst waterfalls, stone paths, and cherry blossoms.
So take a stroll, snap some adorable couple photos, and enjoy the fact that admission is free!
Eat Your Way Through Houston on a Food Tour
As a city with such fantastic cuisine, it's no surprise that some of the best date ideas in Houston revolve around (what else?)–food!
There are numerous options to choose from, many of which incorporate other aspects of this Southern city's vibrant culture–architecture, cocktails, history, and more.
Visit the Rainforest at the Cockrell Butterfly Center
The Cockrell Butterfly Center is a popular wedding venue for Houstonians, so you know romance is guaranteed.
Wander among tropical plants in a dramatic 3-story glass cone and try to spot over 60 species of the world's largest and most colorful butterflies.
Sample a Flavorful Flight at Buffalo Bayou Brewing Co.
They've declared themselves "Houston's most creative brewery," and looking at their tap list, we can't really argue.
Buffalo Bayou Brewing Co. serves up crazy flavor infusions like key lime pie, German chocolate cake, barbecue, watermelon, and so many more.
They boast three floors of fun and an open-air rooftop with panoramic views of the downtown skyline, so you're technically sightseeing as you sip!
Make Your Own Vintage Wine at Sable Gate Winery
Wine tastings are a tried and true activity for couples, but have you ever made your own?
Sable Gates is taking the experience up a notch, allowing you and your date to team up and take home an extra-special red or white.
Just pick from their selection of wines in fermentation, then bottle and cork the bottles yourself and personalize them with your custom label.
The experience must be arranged in advance, so make sure to set it up (perhaps as a surprise) before you go!
Share Spanish Tapas at BCN Taste & Tradition
You'll be spoiled for choice when it comes to romantic restaurants in Houston, but this elegant, upscale spot might just take the cake.
BCN Taste & Tradition is stylishly housed in a 1920s-era Victorian home, and its all-white interiors and walls hung with paintings set the mood for an intimate night out.
Order a selection of their bestselling dishes to split, and pair them with a glass from their formidable wine menu. We hear the poached quail eggs, Spanish Ibérico ham, and crispy baby artichokes are all worth an order.
Play Classic Arcade Games at Joystix Bar
No matter what age the couple, game nights never get old. Retro arcade machines, pinball, air hockey, skeeball, and a full-service bar bring hours of fun to a unique night out.
They only open to the public twice a month, so make sure to time your visit accordingly!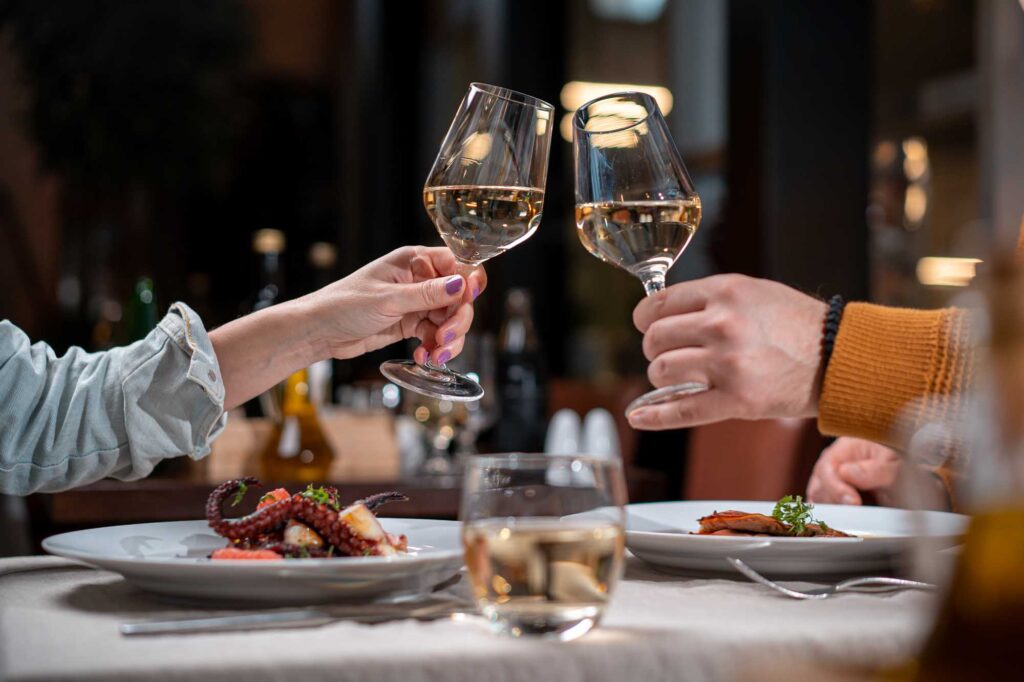 Compete at the Geeks Who Drink Trivia Night
The only things we love more than fun date ideas in Houston are FREE date ideas in Houston. Besides, who doesn't love a friendly competition?
Geeks Who Drink trivia nights take place all across the city, and admission is open to anyone.
With so many chapters, you could find one almost any night of the week, although a crowd favorite takes place at Palace Social every Wednesday from 7-9 PM.
Catch a Flick at the Showboat Drive-In Movie Theater
What's more romantic than a drive-in movie night? Front seat snuggles, vintage snack bars, and memories of simpler times make for a cozy, classic date night in Houston.
Showboat runs a range of double features every weekend, from horror to comedy to lighthearted animated flicks.
Show Your Houston Pride at a Rockets Game
Anyone at all interested in sports has certainly heard of the Houston Rockets, and couples visiting the city will get a kick out of the hot dogs, heated competition, and electric atmosphere found at the Toyota Center.
You'll definitely have to buy tickets in advance, so check their schedule before you go!
Watch a Ball Game at Minute Maid Park
Instantly recognizable as an iconic structure in the Houston skyline, Minute Maid Park is home to Houston's pride and joy baseball team, the Astros.
They made it to the World Series in 2021, so it's safe to say that any game you make it to will be exciting. They play from April to October, and you can check their website for the full schedule.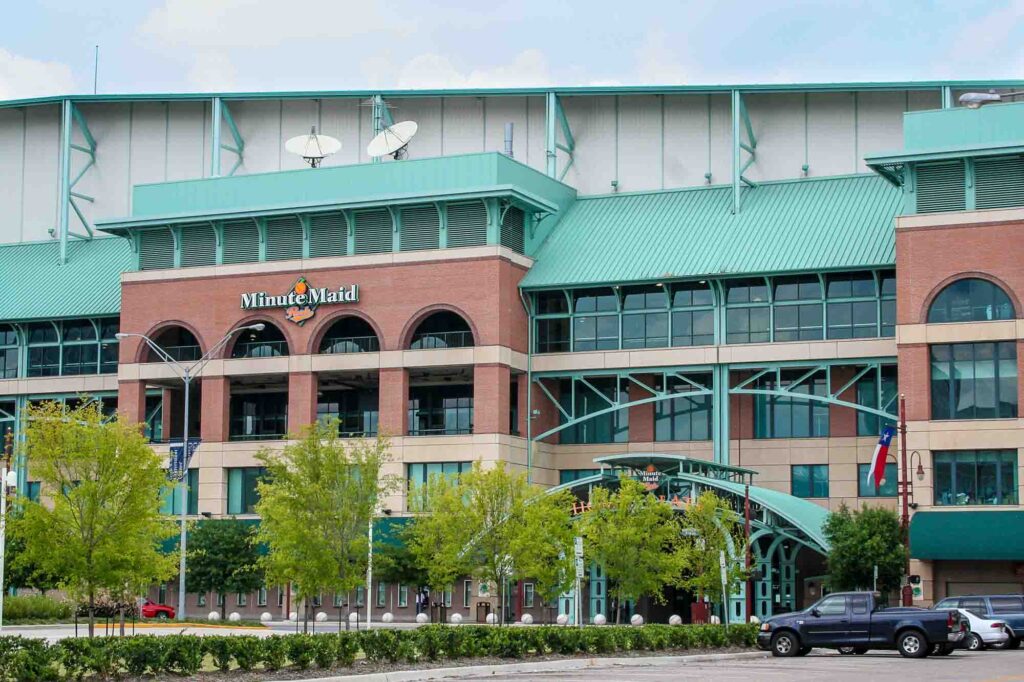 Stargaze at George Observatory
Make the idea of star-crossed lovers a bit more literal with Saturday night stargazing at Houston's George Observatory.
Tickets are $10 per person and give you access to real-time camera feeds from the observatory's telescopes, guidance from on-site astronomers, and a laser tour of the constellations above. How romantic!
Verb at James Turrell Skyspace
Located on the Rice University campus, this art installation makes for a date night in Houston that you'll never forget.
The Skyspace blends technology and nature to create stunning light shows twice a day–at sunrise and sunset.
It's free and open to the public every day except Tuesday, but you should aim to arrive 1 hour before dawn or dusk to claim your spot.
Swing Your Partner Round and Round at Whiskey River North
While some of these date ideas in Houston could be experienced anywhere, a dance hall date is so typically Texan that it will have you and your date wanting to buy matching cowboy boots.
At Whiskey River North, the crowd is rowdy, the music is good, and there's even a mechanical bull to try out in between swing dances.
Sing Along Under the Stars at Miller Outdoor Theatre
Bring together gorgeous Texas sunsets, warm evening air, and grassy lawns, and you get the only free, open-air theatre of its kind in the United States.
Miller Outdoor Theatre has been delighting locals and tourists alike for years, with a lineup of ballet, opera, live music, and more.
Grab a Cold One at Axelrad Beer Garden
The self-proclaimed "coolest beer garden and live music destination in Houston" is just the spot to rest your tired feet after a day of touring the city.
Grab a craft brew and a food truck meal, then settle into a pair of their outdoor hammocks to enjoy a laid-back version of Houston's nightlife.
Work Out Some Anger at Houston Ax Throwing
Traveling with a loved one can be tough, but there's no argument on the road that can't be smoothed over with some good old ax throwing.
So grab your weapon of choice (they also offer knives) and unleash your "inner lumberjack and jill" at Houston Axe Throwing.
Get an Adrenaline Rush at iFLY Houston
What brings two people together quite like defying gravity? This indoor skydiving spot is totally safe, but it will definitely give you the thrill you need to send sparks flying.
You don't need any experience to get in on the fun; just book your flight in advance and show up ready for an adventure.
Stroll Past Some Street Art
Looking for a cheap date idea in Houston? We'll do you one better! This activity will take you through several of the city's coolest areas and get you up close and personal with funky local art, but you don't have to spend a dime.
From the iconic, postcard-inspired "Greetings From Houston" mural to the super Instagrammable Biscuit Paint Wall, there's no shortage of colorful, creative graffiti installments to explore.
Check out this Houston mural map to create your self-guided tour.
Visit Mars at Space Center Houston
We're sure you love your partner to the moon and back but does that affection stretch all the way to Mars?
Space Center Houston is one of the city's top attractions, and you can make your relationship interplanetary in their "Mission Mars" exhibit.
Watch a virtual Martian sunset, sit inside a simulated Orion capsule, and touch a real piece of the red planet!
Browse the Masterpieces at the Houston Museum of Fine Art
This city is known for its superb museums, so we had to include at least one or two on our list of date ideas in Houston.
You and your special someone can get dressed in your artsiest outfits and make your way through the world's 12th-largest gallery, complete with more than 65,000 masterpieces (not including you two).
Get Experimental at the Houston Museum of Natural Science
There's an abundance of exhibits to browse through in one of the country's most popular museums, and you can add a romantic spin on many of them.
Scout for your future ring in the Lester and Sue Smith Gem Vault, spark your imagination while wandering through the whimsical Cabinet of Curiosities, or explore the physical form at BODY WORLDS.
Snag Engagement-Worthy Snaps at the Water Wall
Dubbed by many tourists as the most Instagrammable spot in Houston, the picture-perfect cascades of the Water Wall are actually multifaceted.
We absolutely encourage you to capture the moment, but it's also a great place to cool off from the Houston heat.
So pack a picnic lunch for the lawn out front and step into the mists whenever you need some refreshment.
Hit the Trails at Brazos Bend State Park
If your love language is the great outdoors, look no further than this date.
Stroll under towering trees strung with Spanish moss, share a sleeping bag while camping overnight, and keep your eye out for the resident alligators!
Brazos Bend State Park looks like a scene straight from "The Notebook," so you're sure to feel some Ryan Gosling-level romance here.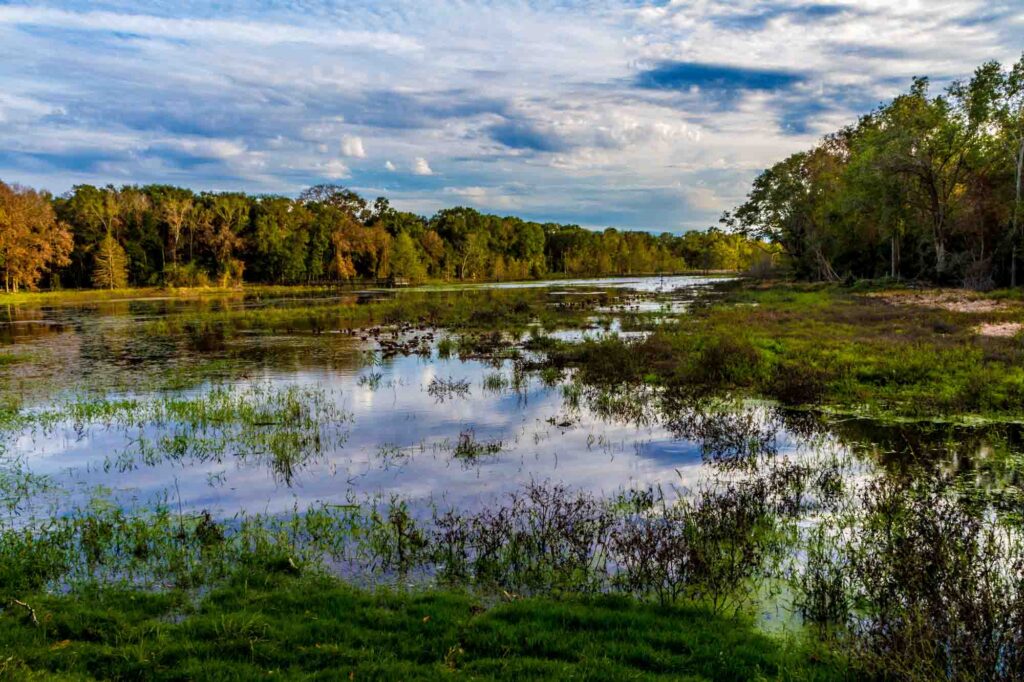 Go for a Long Walk on Galveston Beach
We wrap up our list of date ideas in Houston with a destination that's slightly outside the city itself.
But when just an hour's drive takes you to long, sandy beaches, colorful boardwalks, and quaint historical downtown, how can you say no?
Galveston Beach (on Galveston Island) is the perfect spot for a romantic date, and its proximity to downtown makes it an easy day or half-day trip.
We hope you enjoyed reading about our favorite date ideas in Houston. If you know more couple activities in Houston, please comment below and help other readers. And, if you feel generous today, share this blog post with your friends on social media!